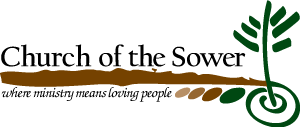 Our passion... to share the Gospel of Jesus Christ.
Our hope... that your journey with God is enhanced by our time together.
G
od has called us to love and serve HIM. Our goal is to show the love of Jesus in everything we do and in the process glorify Him. As we do life together we celebrate the goodness of God knowing that together we can make difference. At Church of the Sower, we are committed to serving the needs of you and your family. Using the Word of God as our guide we offer practical tools for leading a joyous, abundant and peaceful life
.
Wherever you may be on your spiritual journey, at Church of the Sower you will find a supportive community with a wealth of opportunities for personal growth. We aspire to strengthen each person's confidence and joy in Jesus Christ at every point in their life, and encourage personal and spiritual growth through prayer, Bible study and active service in our church and community.
We invite you to join us at one of our weekly services and grow with us.